WELCOME TO OUR WEBSITE



BCS SEASON 2020-21

SINGING GREAT MUSIC

SERVING THE COMMUNITY

A SOURCE OF CULTURAL ENRICHMENT SINCE 1981







---
40th ANNUAL SPRING CONCERT

Music of the British Isles

Live Stream and Replay Link


---
40th ANNUAL SPRING CONCERT

Music of the British Isles

SATURDAY, JUNE 5, 2021 at 2:30 pm

St. Helena's RC Church
1315 Olmstead Avenue in Parckchester, Bronx, NY 10462

Get Your Tickets Today!

Please Visit Our WHAT'S NEW! Page For More Information.


---
Watch Our 39th Annual Holiday Concert On




This Free Community Concert Was Performed On
Saturday, December 5, 2020 at 2:30 pm at
St. Helena's RC Church
1315 Olmstead Avenue in Parkchester, Bronx, NY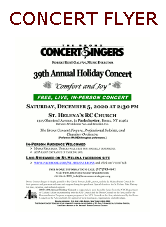 ---
LOVE TO SING?
JOIN THE BCS CHORUS!
BCS is looking for new choristers to join our concert choir.

If you love to sing, love classical music and love the creative challenge of ensemble singing, The Bronx Concert Singers just might be the perfect place for you. Click the image below to learn more about becoming a member of BCS.

---